ICOPE 2018 to discuss sustainable palm oil in Bali
News 10, Apr 2018
ICOPE 2018 to discuss sustainable palm oil in Bali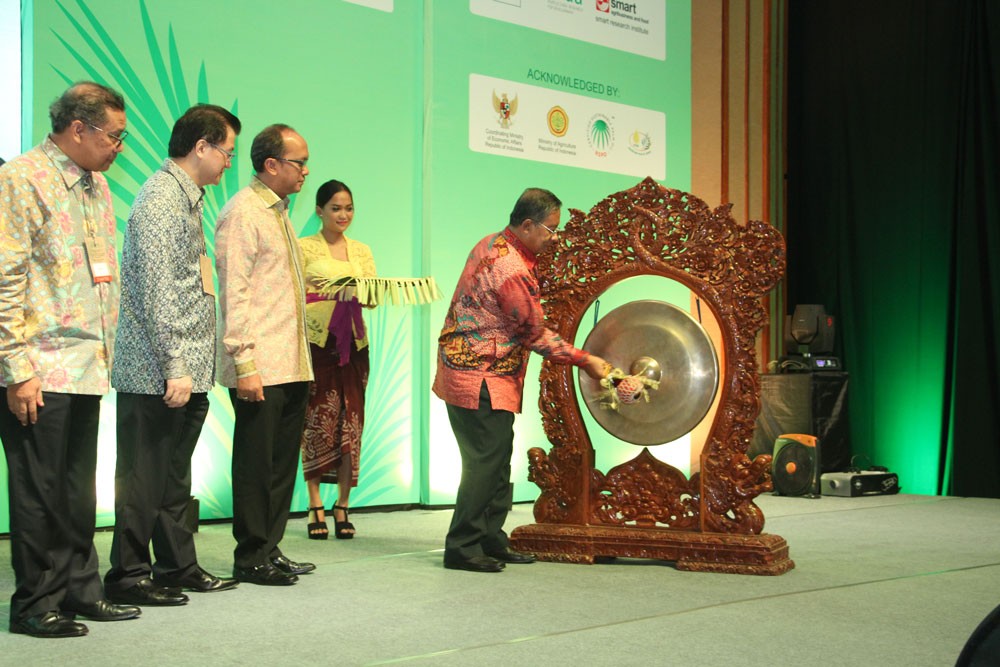 Opening ceremony of ICOPE 2016 in Bali titled Sustainable Palm Oil and Climate Change: The Way Forward through Mitigation and Adaptation. Coordinating Economic Minister Darmin Nasution together with Efransjah, chairman of WWF Indonesia, Franky O. Widjaja, chairman of Sinar Mas Agribusiness and Food, and Rosan Roeslani, chairman of Kadin, officially opened the event.
Global demand for palm oil – an ingredient found in roughly half of all items on supermarket shelves, not to mention bio-fuels – is set to continue its rise, fuelled by markets such as India and China.
At the same time, increasing regulation, special interest groups and health concerns are some of the many challenges facing the future of the palm oil industry.
Moreover, demand for sustainably produced palm oil does not necessarily keep pace with growing global demand – making it the collective responsibility of the industry to foster the sustainable production of palm oil and entrench that as the industry standard.
The International Conference on Oil Palm and the Environment (ICOPE) 2018 is aimed at fostering leading discussion to improve the sustainable production of palm oil through science and technology, while setting benchmarks to raise the bar of the industry as a whole.
The 2018 edition offers delegates a platform to share knowledge and best practices, and facilitates important discourse between stakeholders from the public and private sectors on a common agenda.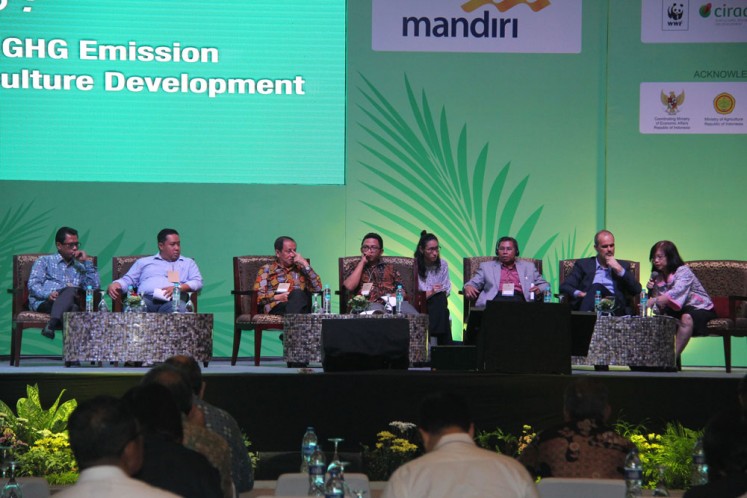 A panel discussion at ICOPE 2016 on Oil Palm Development and GHG Emission: Slash and Burn Practice in Agriculture development with CIFOR Indonesia, Head of District Seruyan, SPKS, GAPKI and WRI.
The theme for the 2018 edition will be "Embracing Sustainable Palm Oil: Solutions for Local Production and Global Change". It is set to take place at The Westin Resort, Nusa Dua – Bali from April 25-27.
Specifically, the conference will include sessions on finding a global consensus on sustainability standards, new improvements from carbon and water footprints, contribution of technologies such as precision agriculture and artificial intelligence to reach a higher level of sustainability with respect to production and conservation and many more. Delegates at ICOPE 2018 will have access to the latest innovative technologies and methods to promote environmentally efficient farming practices.
The conference will also discuss the significant role of palm oil in achieving the UN's Sustainable Development Goals (SDGs). Empowering smallholders in proper land use and cultivation techniques will not only ensure greater yield and profits for growers, but also protect biodiversity.
Key speakers will include Pascale Bonzom of UNDP Panama, Lenaic Pardon of France, Dato Makhdzir Mardan of CPOPC Malaysia, James Fry of LMC International, EU delegate to Indonesia Michael Bucki, the ISCC's Andreas Feig, and Tiur Rumondang of RSPO Indonesia.
Above all, ICOPE 2018 will offer networking and collaboration opportunities with key stakeholders to uncover solutions for production that will engender a more resilient and sustainable palm oil industry.
It is an opportunity to have a deep-dive dialogue on necessary innovations and new scientific approaches to sustainable oil palm agriculture practices for farmers, palm oil growers and producers.
ICOPE is organized by WWF Indonesia, CIRAD, and Sinar Mas Agribusiness and Food. Since its inception in 2007, ICOPE has established itself as a unique platform where all stakeholders including planters, NGOs, government officers, researchers, academics and finance officers, gather together to review their roles in the transformation of the palm oil industry toward environmentally friendly production and consumption of palm oil.
The biennial ICOPE has also ensured that stakeholders in producing and consuming countries are being regularly and continually updated on the developments in the sustainable production and consumption of palm oil.
Courtesy of The Jakarta Post Link